Chasing Utopia: The Future of the Kibbutz in a Divided Israel
Say the word "Israel" today and it sparks images of walls and rockets and a bloody conflict without end. Yet for decades, the symbol of the Jewish State was the noble pioneer draining the swamps and making the deserts bloom: the legendary kibbutznik. So what ever happened to the pioneers' dream of founding a socialist utopia in the land called Palestine?
Chasing Utopia: The Future of the Kibbutz in a Divided Israel draws readers into the quest for answers to the defining political conflict of our era. Acclaimed author David Leach revisits his raucous memories of life as a kibbutz volunteer and returns to meet a new generation of Jewish and Arab citizens struggling to forge a better future together. Crisscrossing the nation, Leach chronicles the controversial decline of Israel's kibbutz movement and witnesses a renaissance of the original vision for a peaceable utopia in unexpected corners of the Promised Land. Chasing Utopia is an entertaining and enlightening portrait of a divided nation where hope persists against the odds.
Buy from Munro's Books
Buy from ECW Press
Buy from Amazon
Buy from Indigo/Chapters
Visit the book's page here
Fatal Tide: When the Race of a Lifetime Goes Wrong
On June 1, 2002, sixty-eight after-work athletes and other "weekend warriors" set off from Saint John, New Brunswick, for a sweaty day of competitive adventure: 15 kilometres of trail running, 40K of mountain biking, and 12 kilometres of sea kayaking on the legendary Bay of Fundy. However, as a storm swept across the final paddling section, what began as a fun introduction to the sport of adventure racing soon turned into a tragedy that would haunt many of the participants for years to come.
Fatal Tide: When the Race of a Lifetime Goes Wrong idramatizes, in the storytelling style of such nonfiction bestsellers as Into the Wild and The Perfect Storm, precisely what happened at the controversial Fundy Multi-Sport Race. Fatal Tide also explores the psychology of risk taking in the outdoors, the contemporary culture of reality TV and extreme sports, the science and treatment of hypothermia, as well as the legal and emotional fallout from the first death of an adventure racer in North America.
Buy from Amazon
Buy from Indigo/Chapters
Visit the book's page here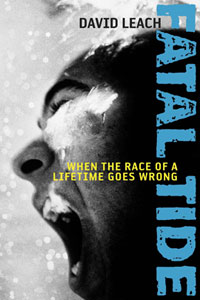 Way Out There: The Best of explore
Edited by James Little
Outdoor adventure has inspired some of the most exciting literary nonfiction of recent years, and explore has published exemplary models of the genre: Ian Brown on backcountry bonding in the Rockies, Adam Killick on surviving a hurricane at sea, and David Leach on mountain biking through the Andes. Personal essays convey the taste of wild eel and the chill of a cotton tent at -28C; cautionary tales describe the death of glaciers and the deviant lifestyles of Atlantic salmon. These incredible stories of the great outdoors entertain, inform, and amaze.
Buy from Amazon
Buy from Indigo/Chapters