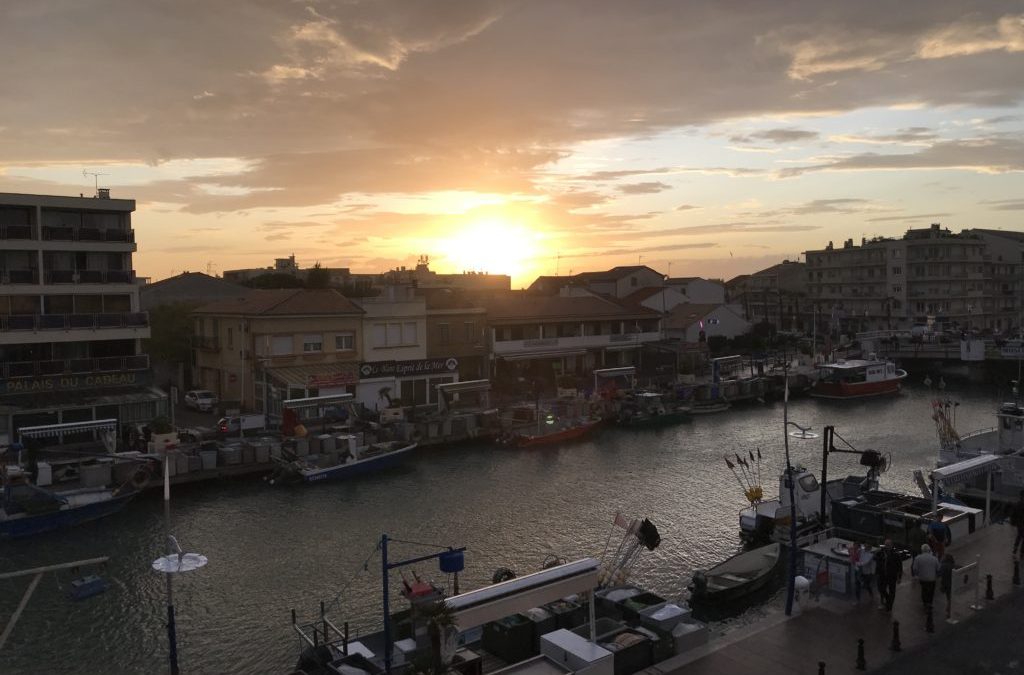 We knew we couldn't avoid rainy weather for seven weeks, yet we had an astoundingly good run of sunny, warm days right until our final week. After leaving St. Remy de Provence after a week there, we drove to Palavas-les-Flots, a beach resort town about a 15-minute drive from Montpellier. Our new apartment was right over the canal there, so we could see people coming and going, fishermen selling their wares, cyclists and some pretty impressive thunder and lightning, or orages and éclats.
We stil walked around cloudy Pavalas (a faded starlet kind of beach town, which I liked) and found lots to do: an aquarium in nearby Grau de Roi, nature trails, a museum devoted to cartoonist and artist Albert Dubout, a museum featuring the old train that ran for decades from Pavalas (originally a fishing village) to larger Montpellier.
Some pretty serious weather blew in and we watched the incredible light show from the stage of our upper-floor apartment. My favourite thing bout Pavalas, hands down, was the dozens of flamants rose, or pink flamingos. Briar and I have been running together and seeing them was a highlight. The birds were so exquisite: cotton candy feathers with fuchsia-dipped wings.
Unfortunately, the rain kept coming and turned into full-on flood for the area. We became very concerned about driving to return our rental car in Montpellier and catch a train to Barcelona. While we made it to Montpellier without finding roads washed out, we discovered that many trains were delayed or cancelled. Then the rain became truly biblical, coming down in sheets punctuated by epic flashes of lighting and claps of thunder. The train station started flooding. This Mediterranean deluge brought four months' of rain to the area in a single day! We know rain, but this was incredible. Unfortunately, lives were lost during the deluge, which affected Italy, France and Spain.
We spent the day trying to figure out what was happening, what to do about it, and speaking not-great French. In the end, all trains to Barcelona and a few other destinations were cancelled that day and the next. In fact, no trains will run to Barcelona until November because tracks are under water. The train was out.
Le gare became chaotic with the flooding and distressed people crying. Fortunately, our children were basically glued to their devices doing homework and not concerned. We bought them Nutella pancakes, so they were not exactly suffering during the delay. Nutella is like a shared religion in the EU, which is fine with A.J. He could bathe in the stuff.
But anyway, we called a modern (and not cheap) hotel, Golden Tulip, that was three minutes' away and we literally ran there with our suitcases. We still got drenched as if by sprayed by a fire hose. The kids were delighted to be a hotel room. We were not excited to pay for accommodation in both Montpellier and Barcelona that night, but we were safe and dry, so felt fortunate. We ended up going back and forth to the station for updates, eventually a refund, and trying to figure out if bus travel was feasible and safe. We fly home from Barcelona, so we had to get there somehow.
Once the rain let up (several hours later) we walked around Montpellier, and bought two styles of macarons from two different places—one the kind of colourful jewels made with cream (pinks and greens and corals) and one organic and homey. We later ventured out to dinner, after feuding about where to go, only to find the one restaurant we agreed on was closed. We randomly chose a place called Le Tomate, which had inventive, delicious food. I had herring as an entrée (appetizer in France). It was served on sliced potatoes with carrot medallions and sautéed onion. It was so simple and tasty. David was determined to make his meal as French as possible, and even had frogs' legs. For dessert, we all attacked (like group hunters with spears) two traditional desserts: tarte tatin and Dame Blanche, which was a bowl of cream, almonds, ice cream and warmed chocolate. The day ended well for us, and it was nice to see more of Montpellier, with its cobblestone streets and ironwork—but the experience was frightening. Sadly, we later learned that some people in affected communities were swept away by the waters and perished.
The next day, we took a bright green low-budget Flixbus to Barcelona, where the sun was shining. As we entered the city, we could see many Catalan flags hanging in windows and yellow ribbons in support of jailed Catalan independence leaders. A few days earlier, half a million people had marched to protest the long sentences given to Catalan independence leaders and there had been much unrest.
We are staying in L'Hospitalet de Llobregat, a densely populated municipality of Barcelona, in a stylish apartment on the fourth floor. The current political situation is on our minds, but yesterday we travelled by subway to see Gaudi's Sagrada Familia, a basilica so unusual, towering and perfect that my eyes filled with tears as I looked around, bathed in the  coloured light from the stained glass. A week earlier, the Sagrada had been blocked by protestors, but all was peaceful that day. From there, we walked to see Gaudi's Parc Guëll, a public green space that was originally intended to be a housing developing for the wealthy.
We spent six hours walking around and enjoying the sunshine. I admit that I did not know much about Gaudi, but found his work so intriguing. I have learned so much on this trip about politics, culture, art, architecture and even macarons. On that note, the second macaron shop in Montpellier we visited was family run and focused on traditional Provencal baking. The owner was there with his young daughter. He had lived in Vancouver, loved Vancouver Island, and said he had two favourite mountains in the world, one was in the Pyrenees and the other was Mount Baker, the peak we see everyday in Victoria, at home.